2023 – Autumn Teaser

The sketch was drawn in 1985 by Andrew Barnett, co-founder of Sedgley LHS.
Naming the pub is far too easy, but naming the person who caused the building to tilt four feet in a southerly direction is not so straightforward.
Send an email if you can find his name.
The SLHS 2023 / 2024 Programme

The 2023/2024 Programme promises a season of informative and stimulating talks from local experts.
Take your pick from presentations covering body snatchers, entertainment venues, local films, working in coal mines, life and times of Nelson and, in May, the Windrush Generation in Walsall ... hopefully there's something for everyone.
Meetings take place at St. Andrew's Church on Bilston Street in Sedgley, and are scheduled for Oct / Nov 2023 and Jan / Feb/ Mar / May 2024. The Society is very friendly and, as always, visitors will be most welcome.
Sedgley Heritage Trails
During 2019 two trails were researched covering nearly forty places of interest within easy walking distance of Sedgley Bull Ring.
A leaflet was then prepared by Sedgley Evening Townswomen's Guild with support from Sedgley People's Archive and Sedgley Local History Society. There was specialist help and advice from Dudley MBC who printed the final version.
The trails can be followed using the street map alongside notes and pictures.
Follow this link to download a copy of the leaflet and enjoy the trails.
2023 – Summer Teaser Answer

The 75th Teaser is celebrated with a picture of the most recent improvement at a well-known beauty spot.
We asked you to identify the location.
It is fitting that our 75th Teaser should shine a spotlight on the most prominent feature in the Manor's landscape - Beacon Hill. The new Wolverhampton Road gateway and path were planned by the Birmingham and Black Country Wildlife Trust and work carried out in 2022 by a Black Country contractor.
Adjacent meadows and woodlands have been improved making this an attractive walk passing the underground reservoir before reaching the Beacon Tower on the ridge.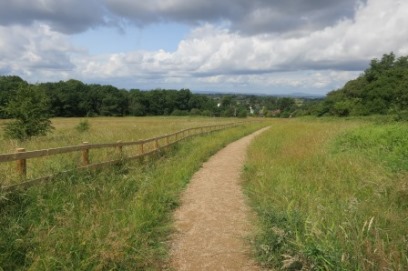 Sedgley Local History Society [SLHS]
Sedgley Local History Society [SLHS] is a Black Country group based in the village of Sedgley, which is situated at the northern tip of Dudley Metropolitan Borough and just 3 miles south of the centre of Wolverhampton.
Here, the heritage of the Manor of Sedgley, in south Staffordshire, is focused through its nine villages - Sedgley, Gospel End, Cotwall End, Upper Gornal, Lower Gornal, Woodsetton, Coseley, Ettingshall and Brierley. A history of people, places and events.
Please contact us if you have any comments, suggestions, contributions or questions.

Please note that genealogy isn't a prime interest of SLHS - it's a huge specialist area in its own right. We provide a list of useful sites on our genealogy links page that will help you to begin your research, however if you have a specific query drop us a line!