The History of Smethwick
The next meeting of the Society takes place on Thursday 8th March at 7:30 pm in St. Andrew's Church, Bilston Street, Sedgley.
The speaker is Mary Bodfish, a favourite with local history groups and Chairman of Smethwick Local History Society.
Mary's illustrated talk follows the rich history of a Domesday village that flourished to become a Victorian boom-town and later a C20th borough of continuous change.
The evening is an ideal opportunity to hear about the fluctuating fortunes of a town once echoing from the noises made by Bouton and Watt's famous Soho foundry and Chance Brothers huge glassworks.
Today Smethwick is in the news because completion of the massive Midland Metropolitan Hospital has been pushed back by the collapse of Carillion.
As usual visitors are invited to come along – cost £1.
Sedgley Local History Society [SLHS]
Sedgley Local History Society [SLHS] is a Black Country group based in the village of Sedgley, which is situated at the northern tip of Dudley Metropolitan Borough and just 3 miles south of the centre of Wolverhampton.
Here, the heritage of the Manor of Sedgley, in south Staffordshire, is focused through its nine villages - Sedgley, Gospel End, Cotwall End, Upper Gornal, Lower Gornal, Woodsetton, Coseley, Ettingshall and Brierley. A history of people, places and events.
Please contact us if you have any comments, suggestions, contributions or questions.

Please note that genealogy isn't a prime interest of SLHS - it's a huge specialist area in its own right. We provide a list of useful sites on our genealogy links page that will help you to begin your research, however if you have a specific query drop us a line!
2017/18 – Autumn / Winter Teaser

Now found in museum settings hundreds of these were commonplace for over seventy years. Take up the challenge – email your findings.
Take up the challenge – email your findings.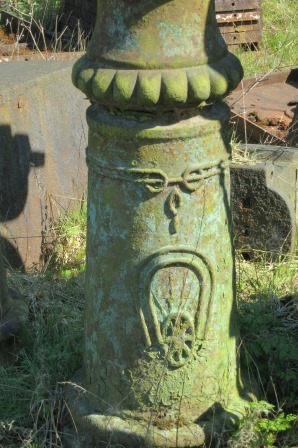 The SLHS 2017 / 2018 Programme

The 2017/2018 Programme promises another set of informative and stimulating talks from local experts. Returning favourites such as Ian Bott, Ned Williams and Mary Bodfish will be talking on subjects as diverse as shops, Smethwick and graveyards!
Meetings take place at St. Andrew's Church on Bilston Street in Sedgely, and are scheduled for Sept/Oct/Nov 2017 and Jan/Feb/ Mar/May/Jun 2018. The society is very friendly and, as always, visitors will be very welcome.