Oliver Cromwell - Royal Executioner or Our Chief of Men
The next meeting of the Society takes place on Thursday 12th March at 7:30 pm in St. Andrew's Church, Bilston Street, Sedgley. The speaker is Max Keen with his unique approach to events in British history.
Max's illustrated talk follows the life of Oliver Cromwell from Cambridgeshire farmer to military general and statesman.
There are heroes and villains of the Civil War with its sieges, political intrigues and Royal 'events'! Opposing forces fought skirmishes and battles across the Midlands with a final showdown at Worcester in 1651.
Meet Max in his Civil War costumes as he takes us through this turbulent period of political and religious unrest.
This is a 'dramatic' evening not to be missed.
As usual visitors are invited to come along – cost £2.
2019 – Autumn Teaser Answer

In Coseley gas cooker production started in the 1890s. This C20th version even had an exclusive foldaway eye level grill.
We asked if you could guess this model's first year of manufacture.
Cannon's A125 gas cooker was on sale for the first time in 1953. The advert was found in the 1954 Christmas issue of Good Housekeeping. In the 1950s Cannon was a leading manufacturer of cookers, gas fires and water heaters. (The firm was established in 1826 and closed in March 1994.)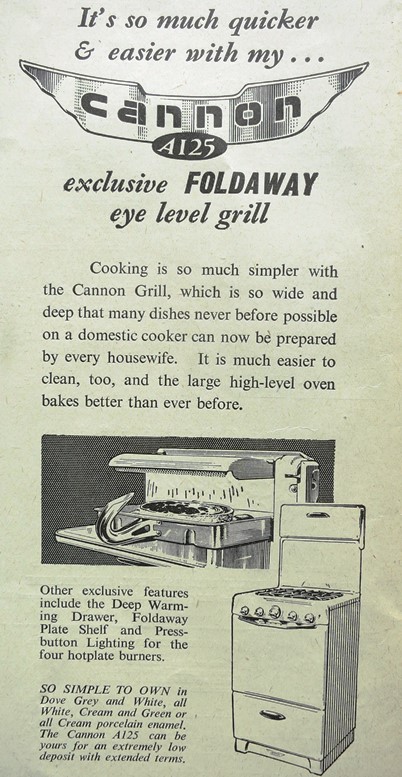 2020 – Winter Teaser

This was a typical Sedgley Manor scene in the 1960s. Send an email if you can identify the street. Hint – the photographer, Trevor Genge, had a good climb.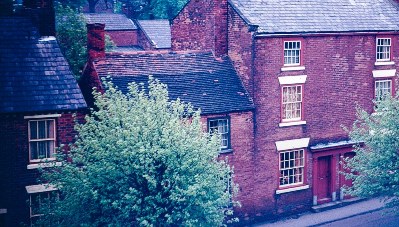 Sedgley Local History Society [SLHS]
Sedgley Local History Society [SLHS] is a Black Country group based in the village of Sedgley, which is situated at the northern tip of Dudley Metropolitan Borough and just 3 miles south of the centre of Wolverhampton.
Here, the heritage of the Manor of Sedgley, in south Staffordshire, is focused through its nine villages - Sedgley, Gospel End, Cotwall End, Upper Gornal, Lower Gornal, Woodsetton, Coseley, Ettingshall and Brierley. A history of people, places and events.
Please contact us if you have any comments, suggestions, contributions or questions.

Please note that genealogy isn't a prime interest of SLHS - it's a huge specialist area in its own right. We provide a list of useful sites on our genealogy links page that will help you to begin your research, however if you have a specific query drop us a line!
The SLHS 2019 / 2020 Programme

The 2019/2020 Programme promises a variety of informative and stimulating talks from local experts. In March the irrepressible Max Keen will appear as Oliver Cromwell, while at the final talk of the season Ian Bott, making his tenth visit, will be presenting pure nostalgia with postcards from yesteryear.
Meetings take place at St. Andrew's Church on Bilston Street in Sedgley, and are scheduled for Oct/Nov 2019 and Jan/Feb/Mar/May 2020. The Society is very friendly and, as always, visitors will be most welcome.