The Life and Legacy of Eliza Tinsley – Black Country Nail Mistress
The next meeting of the Society takes place on Thursday 14th November at 7:30 pm in St. Andrew's Church, Bilston Street, Sedgley. The speaker is Rebecca Wilton a costumed demonstrator at the Black Country Living Museum with a strong interest in canal history and the role of women in industry.
Rebecca has recently researched Eliza Tinsley the Victorian entrepreneur who lived in Sedgley at The Limes. On the death of her husband this amazing lady ran his nail and chain making business for over 20 years. She became a byword in Black Country industry and even today a Wednesbury firm bears her name.
As usual visitors are invited to come along – admission £2. Annual membership of the Society costs £5 and gives free access to the programme of talks.
NOTE – This presentation is a change from the printed programme.
2019 – Summer Teaser Answer

We asked if you could tell us the purpose behind this metal post that can be found in Highfields Road, Coseley.
The cast iron post is thought to mark the boundary between parishes. The 'S' for Sedgley and on the face opposite 'B' for Bilston. It is possible the boundary was also between two urban district councils.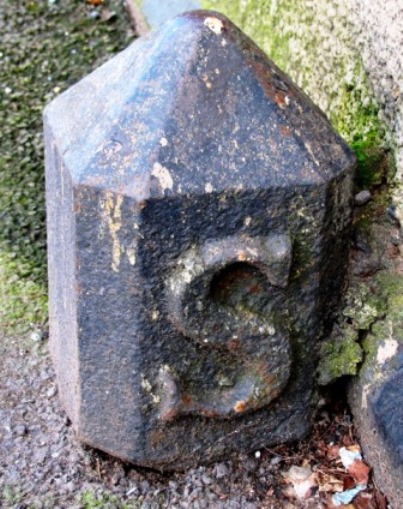 Walk the Walk
If you prefer an urban walk instead of a country stroll try the Dudley Time Trail. Look out for thirty plaques set into pavements in and around the centre of the town. They feature famous figures, events and places including Jumping Joe Darby, the Castle siege and the Church of St. Thomas and St. Luke.
Each plaque is four square feet in area and cast in bronze. Steve Field, the borough artist, designed and masterminded the project. Installation began in 2015 and took several months to complete.
You can pick up a leaflet at libraries and Dudley Archives, or download the route and activity sheet.
On a fine day the walk can be completed in about 2½ hours admiring the views and photographing the plaques. A more leisurely approach can be taken if the Market Place and Coronation Gardens plaques are followed on separate visits.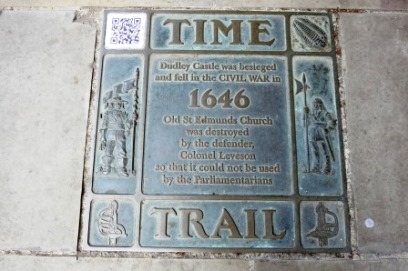 2019 – Autumn Teaser

In Coseley gas cooker production started in the 1890s. This C20th version even had an exclusive foldaway eye level grill.
Send an email if you can guess the first year of manufacture.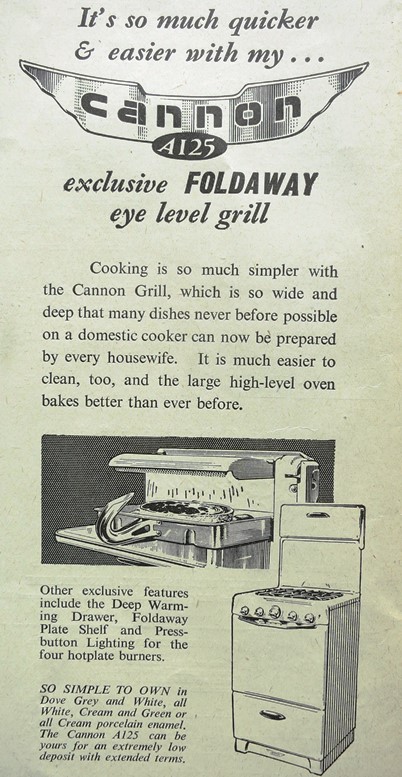 The SLHS 2019 / 2020 Programme

The 2019/2020 Programme promises a variety of informative and stimulating talks from local experts. In March the irrepressible Max Keen will appear as Oliver Cromwell, while at the final talk of the season Ian Bott, making his tenth visit, will be presenting pure nostalgia with postcards from yesteryear.
Meetings take place at St. Andrew's Church on Bilston Street in Sedgley, and are scheduled for Oct/Nov 2019 and Jan/Feb/Mar/May 2020. The Society is very friendly and, as always, visitors will be most welcome.
Sedgley Local History Society [SLHS]
Sedgley Local History Society [SLHS] is a Black Country group based in the village of Sedgley, which is situated at the northern tip of Dudley Metropolitan Borough and just 3 miles south of the centre of Wolverhampton.
Here, the heritage of the Manor of Sedgley, in south Staffordshire, is focused through its nine villages - Sedgley, Gospel End, Cotwall End, Upper Gornal, Lower Gornal, Woodsetton, Coseley, Ettingshall and Brierley. A history of people, places and events.
Please contact us if you have any comments, suggestions, contributions or questions.

Please note that genealogy isn't a prime interest of SLHS - it's a huge specialist area in its own right. We provide a list of useful sites on our genealogy links page that will help you to begin your research, however if you have a specific query drop us a line!