May and June meetings
The unprecedented disruption to everyday life caused by Covid-19 has impacted on all social activities.
The Society has postponed the May AGM and talk. Furthermore, the June walk has been cancelled.
It is hoped the 2020/2021 programme of talks can begin in September as usual.
Take care and stay safe.
2020 – Winter Teaser Answer

This was a typical Sedgley Manor scene in the 1960s. We asked if you could identify the street, with the hint that the photographer, Trevor Genge, had a good climb.
The houses in Dean Street, (originally called Church Street), were demolished c.1980. For centuries it was part of the ridgeway path from the centre of Sedgley to Dudley.
The picture was taken from the roof of All Saints' Church.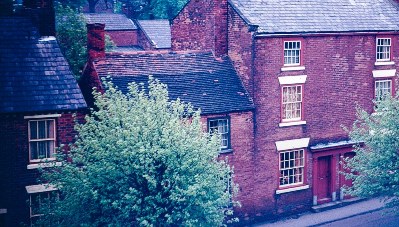 2020 – Spring Teaser

This is a museum replica of a garage built in Sedgley Manor in the 1930s. Send us an email naming the original location.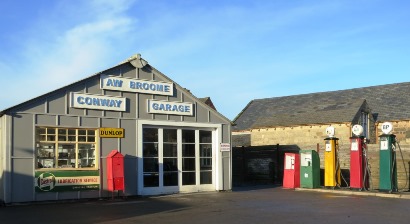 Sedgley Local History Society [SLHS]
Sedgley Local History Society [SLHS] is a Black Country group based in the village of Sedgley, which is situated at the northern tip of Dudley Metropolitan Borough and just 3 miles south of the centre of Wolverhampton.
Here, the heritage of the Manor of Sedgley, in south Staffordshire, is focused through its nine villages - Sedgley, Gospel End, Cotwall End, Upper Gornal, Lower Gornal, Woodsetton, Coseley, Ettingshall and Brierley. A history of people, places and events.
Please contact us if you have any comments, suggestions, contributions or questions.

Please note that genealogy isn't a prime interest of SLHS - it's a huge specialist area in its own right. We provide a list of useful sites on our genealogy links page that will help you to begin your research, however if you have a specific query drop us a line!