Childhood – Toys, Games & Playtime
The next meeting of the Society takes place on Thursday 12th January 2017 at 7:30 pm in St. Andrew's Church, Bilston Street, Sedgley. Members and visitors are invited to raid their toy boxes for childhood memorabilia collected over the years – from dolls & soldiers to Lego & the Rubik's Cube. The list is endless.
Favourite board games begin with simple snakes & ladders to today's epic A Game of Thrones!
The fun of winning never ceases!
The evening is a great chance to display items and chat about them. Start the New Year by sharing your memories and 'treasures' at this friendly gathering.
As usual visitors are invited to come along – cost £1.
Sedgley Local History Society [SLHS]
Sedgley Local History Society [SLHS] is a Black Country group based in the village of Sedgley, which is situated at the northern tip of Dudley Metropolitan Borough and just 3 miles south of the centre of Wolverhampton.
Here, the heritage of the Manor of Sedgley, in south Staffordshire, is focused through its nine villages - Sedgley, Gospel End, Cotwall End, Upper Gornal, Lower Gornal, Woodsetton, Coseley, Ettingshall and Brierley. A history of people, places and events.
Please contact us if you have any comments, suggestions, contributions or questions.

Please note that genealogy isn't a prime interest of SLHS - it's a huge specialist area in its own right. We provide a list of useful sites on our genealogy links page that will help you to begin your research, however if you have a specific query drop us a line!
2016 Autumn Teaser

Black Country canal carriers proudly emblazoned the company name on both sides of the cabin. Here there are three names, one with a Sedgley link, but which one.
Take up the challenge and email your findings.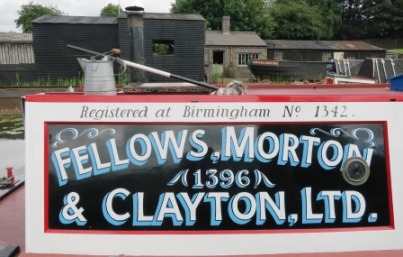 The SLHS 2016 / 2017 Programme

The 2016/2017 Programme has meetings scheduled for Sept/Oct/Nov 2016 and Jan/Feb/Mar/May/Jun 2017.
Visitors welcome.