Black Country Zeppelin Raid
The next meeting of the Society takes place on Thursday 13th November at 7:30 pm in St. Andrew's Church, Bilston Street, Sedgley. The speaker is Derek Nicholls a local historian from Tipton.
Derek has spent 18 months researching the deadly raid on Tipton, Bradley, Wednesbury and Walsall in January 1916 inflicted by a Zeppelin that had lost its way.
(With stalemate on the Western Front Zeppelin raids started in January 1915 with bombs dropped on King's Lynn and Great Yarmouth. During WW1 about 50 raids were made on Britain killing over 500 civilians and injuring over 1,300.)
As usual visitors are invited to come along – admission £1. Annual membership of the Society costs £5 and gives free access to the programme of talks.
2014 Summer Teaser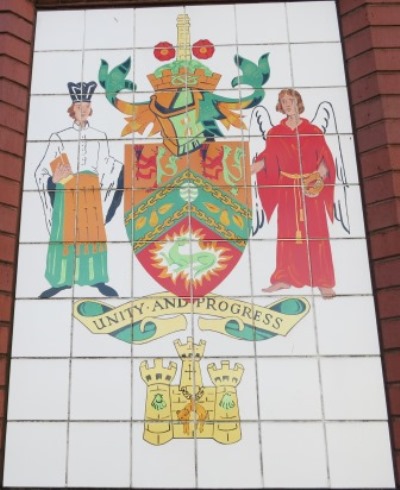 The arms of Dudley Metropolitan Borough Council were granted in June 1975. There are elements from the old County Borough arms as well as from the different authorities subsumed into the 'new' Dudley.
We asked if you could identify the symbols from the Urban Districts of Sedgley and Coseley (and give yourself a pat on the back if you know the location of the tiles.)

The key elements from Sedgley's badge and Coseley's arms are the Beacon Tower and Stafford Knot set at the top of the Borough coat of arms. Both towns were in Staffordshire.
The tiles took pride of place on the rear wall of a toilet block at the north end of Dudley's Market Place. The 1980s building was demolished in the first week of July 2014 to give a clear view of the castle and make way for the redevelopment of the market facilities. The fate of the tiles is unknown.
2014 Autumn Teaser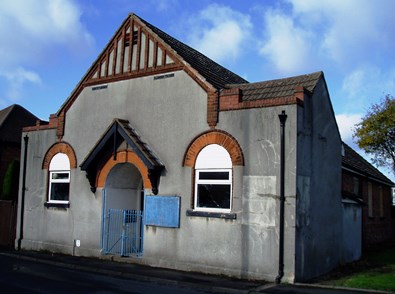 This building once played a central role in the life of a community. Now its services are no longer needed.
Send an email with your answer.
The SLHS 2014 / 2015 Programme

The 2014/2015 Programme is now available.
Note this document is a PDF download: to read PDFs you will need Adobe Reader - if you haven't already got the capability the application is reliable, safe, and available free from Adobe at this site.
Sedgley Local History Society [SLHS]
Sedgley Local History Society [SLHS] is a Black Country group based in the village of Sedgley, which is situated at the northern tip of Dudley Metropolitan Borough and just 3 miles south of the centre of Wolverhampton.
Here, the heritage of the Manor of Sedgley, in south Staffordshire, is focused through its nine villages - Sedgley, Gospel End, Cotwall End, Upper Gornal, Lower Gornal, Woodsetton, Coseley, Ettingshall and Brierley. A history of people, places and events.
Please contact us if you have any comments, suggestions, contributions or questions.