A Forgotten History: Wolverhampton Coffee Mill Makers
The Society's new season of talks begins on Thursday 11th September at 7:30 pm in St. Andrew's Church, Bilston Street, Sedgley. The speaker is Kate Hartland-Westwood with her award-winning presentation on coffee mill makers.
Kate won the 2014 Wolverhampton Local History Symposium with her talk covering the period 1760 to 1911. Manufacture thrived in the town producing mills for use in homes and shops. By the 1850s nearly 150 businesses existed. An original coffee mill will be on display.
The talk is very apt for the Society with Census returns in Sedgley showing several coffee mill makers. It is assumed complete mills were made in the village.
As usual visitors are invited to come along. Individual talks cost £1. Annual membership of the Society costs £5 and gives free access to the programme of talks.
Summer Treats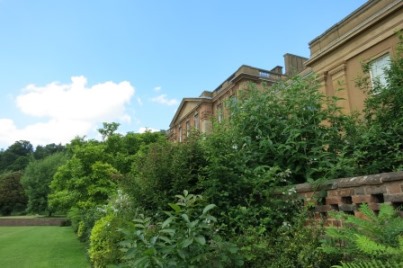 Stretch your legs in the grounds of Himley Hall, then pop indoors to see two cracking exhibitions.
Artist Geoff Tristram describes himself as 'artist, cartoonist and comedy writer'. This exhibition features every aspect of his work – from cats and classic portraits to politicians and snooker players. It is impossible to leave the room without a big smile on your face – the cartoons for Ravensburger puzzles are a hoot and the books are hilarious. The show is titled Forty years watching paint dry! Enjoy.
Next door The Earl of Dudley Estate: Eight Centuries of History showcases archive material from the Earl of Dudley Estate Collection which has recently been fully catalogued with the aid of a national grant. Of particular interest is the development of the Himley site from moated manor house to today's Palladian style mansion.
Still looking for more treats? If so, browse Discover Dudley.
Sedgley Journal No. 7

The Society's latest occasional news-sheet covers local flags and workhouses.
Sedgley Journal Number 7 - February 2014
Sedgley Local History Society [SLHS]
Sedgley Local History Society [SLHS] is a Black Country group based in the village of Sedgley, which is situated at the northern tip of Dudley Metropolitan Borough and just 3 miles south of the centre of Wolverhampton.
Here, the heritage of the Manor of Sedgley, in south Staffordshire, is focused through its nine villages - Sedgley, Gospel End, Cotwall End, Upper Gornal, Lower Gornal, Woodsetton, Coseley, Ettingshall and Brierley. A history of people, places and events.
Please contact us if you have any comments, suggestions, contributions or questions.

2014 Summer Teaser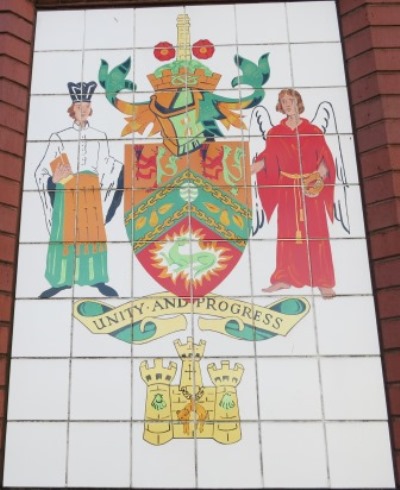 The arms of Dudley Metropolitan Borough Council were granted in June 1975. There are elements from the old County Borough arms as well as from the different authorities subsumed into the 'new' Dudley.
If you can identify the symbols from the Urban Districts of Sedgley and Coseley send an email. (And give yourself a pat on the back if you know the location of the tiles.)

2014 Spring Teaser - Answer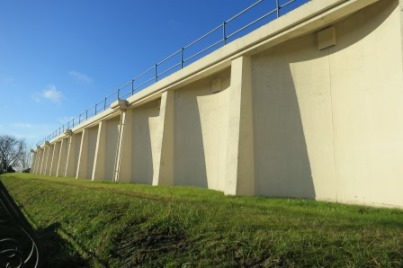 This structure, with a roof the size of West Bromwich Albion's football pitch, is nearly ninety years old. Discover its purpose and location.

The Shavers End [Number Two] reservoir was built at a cost of £41,000 on the west side of Limepit Lane and came into service in 1928. Constructed in concrete and steel, it holds around seven million gallons and the top water level is 743 feet above sea level. At least two windmills have stood in Shaver's End.