2021 – Autumn Teaser Answer

This horse trough is a good example of a once common roadside placement. We asked if you could locate the item and its story.
The trough is on the grass verge in front of a residential home at the junction of Northway and Wolverhampton Road. Originally it was placed on the opposite side of the road for horses to use before the long steady climb to Sedgley.
By the second half of C20th the trough (c.1915) was neglected and out of use. In autumn 1997 The Friends of Kidderminster Railway Station removed the trough for installation outside the station.
After Dudley MBC stepped in the trough was returned in early 2001 and placed in the new position. Kidderminster cast a replica for own use!
The original inscription is barely visible:
"Blessed are the merciful for they shall obtain mercy - Erected in memory of a lover of animals"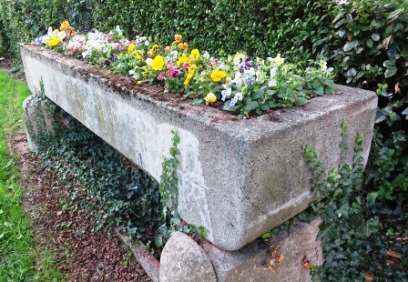 Sedgley Local History Society [SLHS]
Sedgley Local History Society [SLHS] is a Black Country group based in the village of Sedgley, which is situated at the northern tip of Dudley Metropolitan Borough and just 3 miles south of the centre of Wolverhampton.
Here, the heritage of the Manor of Sedgley, in south Staffordshire, is focused through its nine villages - Sedgley, Gospel End, Cotwall End, Upper Gornal, Lower Gornal, Woodsetton, Coseley, Ettingshall and Brierley. A history of people, places and events.
Please contact us if you have any comments, suggestions, contributions or questions.

Please note that genealogy isn't a prime interest of SLHS - it's a huge specialist area in its own right. We provide a list of useful sites on our genealogy links page that will help you to begin your research, however if you have a specific query drop us a line!
2022 – Winter Teaser

Send an
email
if you can name this pub and the street where it can be found.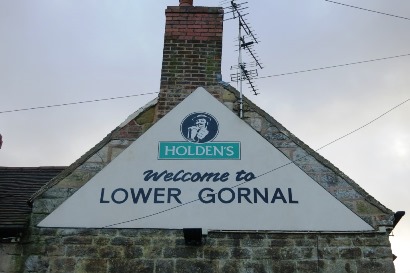 Castle At Risk
Dudley Castle, built in Sedgley Manor's Woodsetton village, is in need of some tender loving care.
In the Civil War it survived two sieges (1643 and 1646) suffering only minor damage. However, Oliver Cromwell wasn't finished with attacking its defences and, along with other fortifications in England Parliament instructed the castle was to be 'sleighted' beyond repair (1647).
Further damage was caused by a fire in 1750 started by accident or intention. This left the living quarters uninhabitable. After that the castle continued to crumble and became a much admired romantic ruin in Victorian times.
The ruins were given Grade I status in 1949 putting it on a par with the Tower of London, Windsor Castle and many other historic sites. In the 1980s archaeological digs and limited restoration projects helped to raise the castle's profile.
Some forty years later its condition was a cause for concern and in October 2020 the castle ruins were added to the 'at risk' register of Historic England. The owners, Dudley Council, hope this will help them to succeed in funding applications for sensitive restoration.
This is a composite picture from around 1920 showing the Keep across the Bailey as seen through the Triple Gateway. In reality such a view is possible, but through a much less imposing archway!