You Can't Abdicate and Eat It
The next meeting of the Society takes place on Thursday 9th March 2017 at 7:30 pm in St. Andrew's Church, Bilston Street, Sedgley. The speaker is Mary Bodfish, a favourite with local history groups and Chairman of Smethwick Local History Society.
Mary's illustrated talk explores the Wallis Simpson and Prince of Wales love affair and subsequent consequences. Locally Himley Hall features in this spicy tale which leads to the constitutional crisis in 1936.
The British Monarchy never fails to surprise. Several kings have been forced off the throne, only Edward VIII left voluntarily making it one of the most remarkable Royal events of the C20th.
As usual visitors are invited to come along – cost £1.
2016 Autumn Teaser - Answer

Black Country canal carriers proudly emblazoned the company name on both sides of the cabin. We asked which one of the three names had a Sedgley link.
James Fellows was born in Upper Gornal, died in Tipton and was buried in All Saints' Church old graveyard in Vicar Street, Sedgley. There is a memorial window in the church to James and Eliza erected by their children. He started the company in 1837 and after his death in 1854 Eliza continued the business until their son Joshua took the helm.
Frederick Morton became an investor in 1876 followed a few years later by William Clayton joining with his fleet of boats. The three names first appeared on cabins in 1889. Business boomed until operating costs caused the whole company to fold in 1948.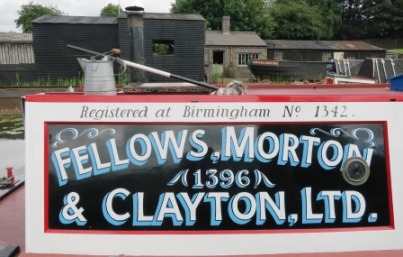 2017 Winter Teaser

This building was used as a cinema for nearly 50 years. The challenge is to discover its original purpose.
Send an email if you know the answer.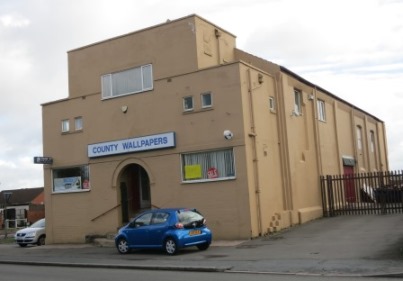 The SLHS 2016 / 2017 Programme

The 2016/2017 Programme has meetings scheduled for Sept/Oct/Nov 2016 and Jan/Feb/Mar/May/Jun 2017.
Visitors welcome.
Sedgley Local History Society [SLHS]
Sedgley Local History Society [SLHS] is a Black Country group based in the village of Sedgley, which is situated at the northern tip of Dudley Metropolitan Borough and just 3 miles south of the centre of Wolverhampton.
Here, the heritage of the Manor of Sedgley, in south Staffordshire, is focused through its nine villages - Sedgley, Gospel End, Cotwall End, Upper Gornal, Lower Gornal, Woodsetton, Coseley, Ettingshall and Brierley. A history of people, places and events.
Please contact us if you have any comments, suggestions, contributions or questions.

Please note that genealogy isn't a prime interest of SLHS - it's a huge specialist area in its own right. We provide a list of useful sites on our genealogy links page that will help you to begin your research, however if you have a specific query drop us a line!