The Somme Remembered

The Battle of the Somme raged from July to November 1916. The start was marked by huge explosions under the German lines in the early morning of July 1st. At 7:30am British troops left their trenches to be met by a barrage of machine gun fire. By the end of the day 19,240 British soldiers were dead and a further 38,230 were injured.
Engagements lasted for 141 days until November 18th by which time more than a million British troops had been wounded or killed. The brutal trench warfare had advanced the Allies some five miles. The cost to attackers and defenders had bordered on the unimaginable.
Across the Black Country families grieved for lost sons. Every family history finds links to the River Somme battlefields. One Sedgley born trooper, Thomas William Underhill, died in August 1916, aged 19. His family can be traced back to Sedgley Manor villages as early as 1700.
Follow the Somme 100 Commemorations across the UK and in France.
Explore the Somme Centenary and Remembrance Trail.
The SLHS 2016 / 2017 Programme

The 2016/2017 Programme is now available.
A full programme for 16/17 is announced with (as normal) meetings scheduled for Sept/Oct/Nov 2016 and Jan/Feb/Mar/May/Jun 2017.
Sedgley Local History Society [SLHS]
Sedgley Local History Society [SLHS] is a Black Country group based in the village of Sedgley, which is situated at the northern tip of Dudley Metropolitan Borough and just 3 miles south of the centre of Wolverhampton.
Here, the heritage of the Manor of Sedgley, in south Staffordshire, is focused through its nine villages - Sedgley, Gospel End, Cotwall End, Upper Gornal, Lower Gornal, Woodsetton, Coseley, Ettingshall and Brierley. A history of people, places and events.
Please contact us if you have any comments, suggestions, contributions or questions.

Please note that genealogy isn't a prime interest of SLHS - it's a huge specialist area in its own right. We provide a list of useful sites on our genealogy links page that will help you to begin your research, however if you have a specific query drop us a line!
2016 Autumn Teaser

Black Country canal carriers proudly emblazoned the company name on both sides of the cabin. Here there are three names, one with a Sedgley link, but which one.
Take up the challenge and email your findings.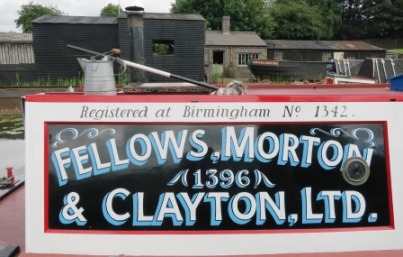 2016 Summer Teaser

In September 2011 an unusual job was underway. We asked what was happening and where?
Known locally as 'The Gorge', the cutting marks the old Sedgley UDC/Coseley UDC boundary. The road was cut through the limestone ridge at Hurst Hill to make a more direct route from Sedgley to Bilston in about 1800.
Over the years frost and rain have caused regular rock falls. The solution was to rock bolt the north face and secure a strong wire mesh.